Mauritius - your dream tropical holidays spot,
par excellence
Hello and welcome to mauritius-holidays-discovery.com
I'm Narain your guide and am delighted to share my experiences and ideas, as an insider, with you for your captivating vacation stay in Mauritius.
So you are going on holidays? Or perhaps you need a revitalising break?
Well, be it one or the other, what can add more pizzazz and fun to your experience than choosing our island as your superb holidays' destination?
You see, our piece of land, nestled in the middle of the Indian Ocean, and often portrayed as Paradise Island, is indeed one of the topmost tropical tourist destinations. It is an appealing vacation spot, par excellence.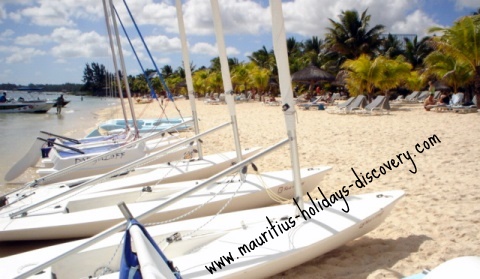 Balaclava Beach
Our country is a leading Indian Ocean destination and an out of the ordinary  tropical vacation spot.

Whether you are on an exciting family trip or on your own; be you looking for a perfect setting to get married and relish a dreamy honeymoon, Paradise Island has all the requisite features to make your stay an unforgettable one.
Mauritius the Paradise Island



Long beautiful fine white sand beaches, gin-like crystal clear water, cool gentle breezes along with inviting warm turquoise lagoons – all enhanced by exotic twilights and enlivening sunrises are the typical characteristics of tropical Mauritius.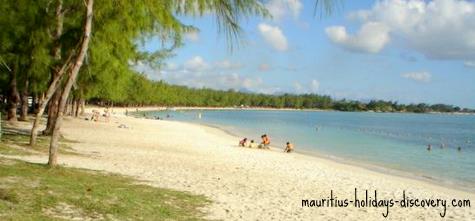 Mon Choisy Beach
Besides sun, sand and sea you will delighted by the spontaneous affectionate smile and revered hospitality of the Mauritian people. It is the unmatched reflection of our true love and sincere caring to treat people in their natural well-being.
Many travelers have been deeply impressed by this facet of Mauritian culture.
People have come from various parts of the world to inhabit and shape this cosmopolitan island, bringing it to its present well-known status.
Traveling around you'll discover a pleasant symbiotic cultural heritage. Dynamic cultural traditions from Africa, Britain, China, France and India diffuse an osmotic comforting co-existence and lifestyle – all tinted by a subtle American modernism and underpinned by an elusive insular Latino-Antilles aroma.
Exploring the northern plains and coastal area to the central plateau, lush sugar cane fields with picturesque mountain peaks backdrops are dominating recurrent themes.
And what about forests, you may wonder! After all we are in a tropical island.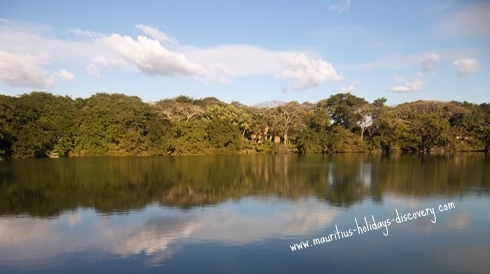 Limpid lake surrounded by lush tropical vegetation
Our indigenous forests cover only a small area of the country. I'm sure you won't miss treating yourself a tonic hike across the greenwood, redolent of endemic and coniferous trees. On the central plateau you will be enthralled by the terrific panoramic view of the luxuriant green gorges and distant azure sea.
Whether you reside in a luxury spa and golf course resort or in a budget apartment, you'll enjoy a pampered scenery change.
A harmonious blend of appetising Indian, Chinese and Creole cuisines can only add to your cheerfulness.
Oh Yes! We haven't forgotten the icing on the cake – the sega dance.
You will be marveled by the groove of this folkloric dance. Its tempo will entice you to take the dancing floor and spur you into getting those feet shuffling, hips swinging with outstretched arms while gyrating the body.
Your stay in Mauritius may be a short moment in time, but even so, impressed with a lifelong memory as upon your departure you will have indubitably carry a piece of Mauritius along with you.
And from time to time, letting yourself be imbibed by these lofty reminiscences you may nostalgically say to yourself:
"I've lost my heart in Paradise Island. . . . . . . . . ."