Belle Mare Beach -
A Charming Beauty
We can say without any pretension that Belle Mare is the most gorgeous and lovely beach of east Mauritius.

As you drive along the coastal road you'll see it unfurls in a vivid picturesque surrounding unique to itself.
Dazzling sun lights blending with a temperate breeze from the south east and magnificent verdant casuarinas subtly fuse to get you feel mellow.

Here you'll really get into a superb mood!

But your elated sensations do not end here.

Warm inviting gin-like clear sea waters glistened in shades of emerald and turquoise are just a few steps from the soft golden sand.

To go for a swim or not to go for a swim - that is NOT the question.

A headlong plunge in the sea is simply an absolute must!

A day at this beach in Mauritius will certainly turn out to be a real blast.

The Helderberg Crash at Belle Mare
A tragic accident occurred in the early hours of 28 November 1987 some few hundred miles off the East of Mauritius.

The Helderberg, flying to Plaisance Airport, crashed into the Indian Ocean, killing everyone onboard the plane.

South African Airways erected a monument on the beach in the fond memories of passengers and crew who perished in the crash of its Boeing 747-244B Combi, registered ZS-SAS.

Vestige of the Past - The Old Limekiln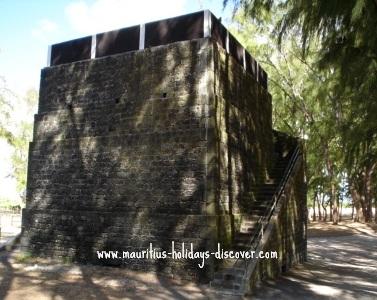 On the southern part of the beach an old limekiln stands majestically in the midst of luxuriant casuarinas. No longer in use, it has now been transformed as a view point tower and the surrounding panoramic view from its top is splendid.

In the past many limekilns were scattered on various beaches in Mauritius. They were used to calcine limestone for the production of quicklime – a white caustic alkaline substance.

This substance had many uses.

It was used in the traditional construction methods to make plaster, mortar and limewash.

Planters often scattered quicklime in their fields to enrich the soils.

Lime is also used for the decanting of cane juice to manufacture sugar.

Palmar Beach
Nearby Palmar is a beach of fascinating contrasts and its varied scenery exert a magical charm on visitors.

Here you can feel the velvety atmosphere as diffused by the exquisite blend of Belle Mare's glamorous beauty along with the soft breeze from adjoining Trou d'Eau Douce.

The balmy early morning sun is simply terrific!

Euphoric picnic mood during the weekend is ever present as at Flic en Flac fun beach. Young and grown-ups alike excitingly dip or plunge in the warm azure water while children amusingly run to the sea as ducks to water.

Palmar Beach, Mauritius
In a secluded part the beach, which I like most, the unspoiled beauty of the coast with luxuriant bushes growing on coarse sand around volcanic rocks remind me of Poste Lafayette's lovely backdrop.
(click on image to enlarge)

Local folks perching on basalt stones to fish is not a scene you'll find at Palmar beach only, but is a common one around the rocky coasts of Mauritius. The catch of a Cateau (Parrot fish) or a Cordonnier (Shoemaker spinefoot) is always a good reason for joyful excitements.

On a picnic day the fresh fish are often grilled on the spot.
A few drops of lemon juice make the grill an appetizing dish which, accompanied by Sega songs and dances, oftentimes calms down the tempo of the festive moods.
Follow Us On Facebook. . .

. . . and stay connected with news, stories, comments and targeted offers.

Mauritius Holidays Discovery >> Beaches In Mauritius >> Belle Mare Beach