Andrea Lodges - A Magnificent Place
in a Rustic Setting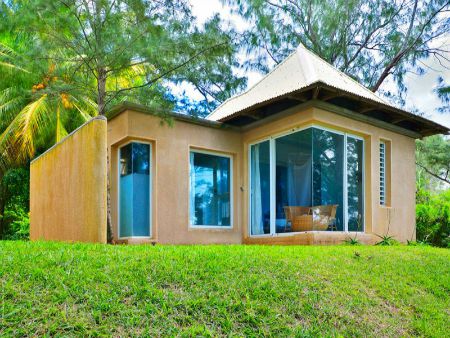 Bungalow Style Room Surrounded by a Tropical Garden
Andrea Lodges is a hidden piece of paradise located in south Mauritius. It is an ideal getaway spot for relaxing and rejuvenation from the busy city life. The bungalow style rooms are tucked along a magnificent cliff with stupendous views over the roaring waves crashing against basaltic black rocks.
Its romantic and rustic settings around a lush tropical garden makes it a great attraction for honeymooners.
Though reaching there from the main road is across sugar cane fields on a bumpy trail, the trip is enjoyable nonetheless.
It is a great alternative to, or even a nice combination with the pristine blue lagoon beach holidays. Here you cannot swim. The sea currents are very strong and the waves are big.
Ideal for: Getaway relaxing break | Honeymoon | Wellness and rejuvenation

Book Through Us And Save From 5-6% On Prevailing Seasonal Rates
Andrea Lodges Accommodation

Ten bungalow style and secluded standard rooms capable of accommodating 2 adults and 1 infant (0 to 02 years years old).
All rooms have one open style bedroom equipped with:-
Air conditioning
An electric kettle
Complimentary tea and coffee
Personal electric safe, hair dryer and shaver socket
Hot running water in bathroom
Mosquito net
Baby cot (0 to 02 years old inclusive): free of charge
Maximum 1 baby (0 to 02 years incl.) sharing adults' room
Children in own room: minimum 1 child and maximum 2 children (from 03 to 11 years old incl.)

Location of lodges: 4 with garden view and 6 with sea view.
(Our note: no WIFI available in room).

Restaurant and Bar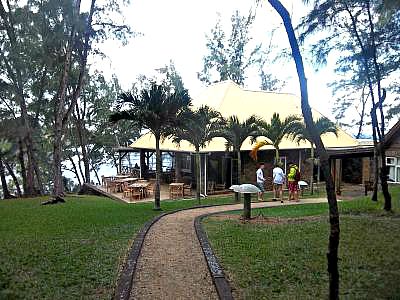 The unique restaurant and bar is located in proximity to the cliffs and overlooking the deep blue sea.
Opening hours:-
Breakfast: 08h00 - 10h00
Lunch: 12h00 - 15h00
Dinner: 19h00 - 21h30
Cuisine: Mauritian specialties

(Our note: during wintertime strong winds blow through the veranda and the nights can be really chilly. Warm clothes are recommended).

Additional Information

Check-in: 14h00
Check-out: 11h00
WIFI connection available in public areas.
The swimming pool, adjacent to the restaurant and bar, is available to all guests.
Safe parking zone accessible.
Free activities:-
Guided walk through the nature park (approximately 1 hour)
Guided walk to La Roche Qui Pleure and Gris Gris located in the town of Souillac (approximately 2 hours)
(Note: good walking shoes and a cap recommended. On rainy days the walk is not practicable).

Map
Follow Us On Facebook. . .

. . . and stay connected with news, stories, comments and targeted offers.

Mauritius Holidays Discovery >> Andrea Lodges