Andrea Lodges. . . .An Amazing Hidden
Piece of Paradise
By Manish Runjeet
If you are an adventure lover like me, Andrea Lodges will no doubt gratify you.
It is the most drool-worthy getaway eco-retreat I have ever known.
Located in south Mauritius at Union Ducray, Rivière des Anguilles, the small bungalows are perched on a stupendous cliff with breathtaking views of the deep blue southern seas.
This is what I have read a bit about the cozy retreat.
Andrea Lodges fact-sheet, price list and booking| Photos |

A day at the Lodge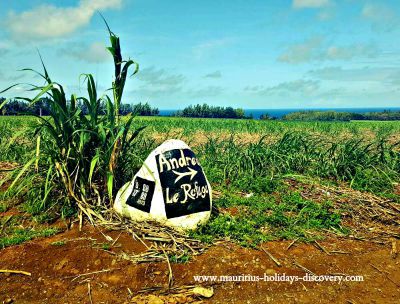 On that gentle and mild winter morning, as I traveled from Grand Baie to Union Ducray, I kept pondering how tantalizing my experience will be there.

The last two kilometers of the drive off the main road was across verdant sugarcane fields on a rocky trail. While admiring the alluring distant panorama, the bumpy trip to Andrea kept stirring up my expectations.
A warm welcome and a nap later, I sat on my comfortable bed savoring the captivating scenery through large window panes of the room.
The incredible landscape, gentle breeze shuffling through the long drop curtains and Serein du Cap melodiously chirping in the casuarinas procured me a sense of well-being and relaxation.
I am not the type of person who can stay still for long. Soon my trekking nature took the lead and prompted me to put on my sneakers for a long walk along the cliff. 
All along the volcanic rocky height, boarded by redolent exotic bushes and trees, rolling waves came crashing against the rugged cliff and tumultuously splashing foamy water droplets all around.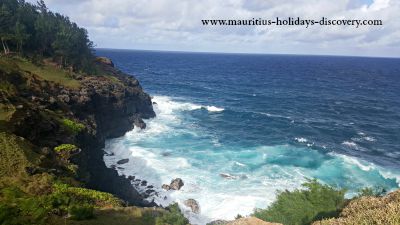 I was left mesmerized by the scenery and my sensations zinged inside me as the saline dews crystalized on my skin.
Enwrapped by a marvelous aftereffect of my lively adventure I felt poised all through the evening.
Needless to point out that my appetite doubled at dinner time. After a dishful of green leaves and tomato salad I really relished the hot and spicy bouillon de crabe (crab soup) entrée at the buffet.
The taro roots mash with tagliatelle and grilled fish was a pure delight.
Later at night, lulled by the distant roaring of the waves and the whistling of a chilly wind, I melted in the arms of Morpheus.
Good Bye Andrea Lodges
Saddened by the idea that I have to leave Andrea to go back home, I sat peacefully on the restaurant's terrace to have my continental breakfast.
The soft sun rays enlivened the cool wintertime morning.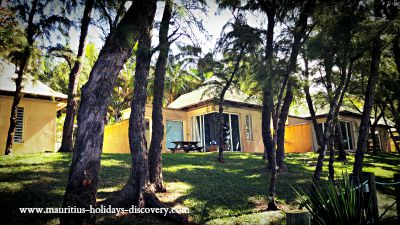 It's quite a long time I didn't have large serving of zippy sun-ripe fruits and nectar. 
I don't digest oily food easily in the early morning, so I declined the omelet and sausages. Instead I opted for milk, cereals, chocolate croissant and a buttered slice of toast with jam and cheese.
What else can be said besides Andrea Lodges being WOWderful!
Follow Us On Facebook. . .

. . . and stay connected with news, stories, comments and targeted offers.

Mauritius Holidays Discovery >> Andrea Lodges