LUX Le Morne
Mauritius
Nestled within a lush tropical garden 5-star LUX Le Morne is located at the foot of  Le Morne Brabant mountain,  a rugged and quiet part of the island considered as Mauritius' Cultural Landscape.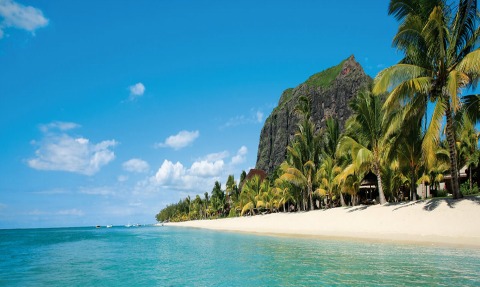 All rooms and suites are designed in a chalet style architecture and spread along a magnificent white beach with crystal clear sea water and turquoise lagoon.
Swimming and snorkeling is ideal in the limpid water.

The awesome sunset views alongside the mountainous virgin landscape that backdrop the resort offers a luxury isolated retreat with an elegant romantic ambiance.


Accommodation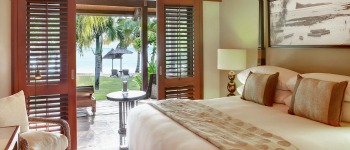 The hotel has 149 sea facing rooms and suites:
64 Superior Rooms
10 Junior Suites

15 Honeymoon Junior Suites
15 Ocean Junior Suites
45 Prestige Junior Suites
Room Sharing Policy
Superior Room: 2 adults + 1 teen or 1 child or 1 baby
Junior Suite: 2 adults + 1 teen or 1 child or 1 baby
Honeymoon Junior Suite : 2 adults
Prestige Junior Suite : 2 adults + 1 baby
Ocean Junior Suite : 2 adults    + 1 teen or 1 child or 1 baby
Note:
Baby: under 3 years old
Child: 3 to 11 years old
Teen: 12 to 17 years old

Restaurants and Bars
Guests have a choice of 3 restaurants - The Kitchen, The Beach and the East - and 3 bars.

The Kitchen is the main Restaurant.
Opening hours: 07h00 to 10h30 and 19h00 to 22h00
Breakfast: Buffet

Lunch: salad bar,snacks and Mauritian specialities (noon to 15h00)
Dinner: Buffet, Menu

The Beach serves Mediterranean cuisine.
Opening hours: 12ho0 to 15h00 and 19h00 to 22h00
Lunch: A la Carte
Dinner: A la Carte and themed evenings
The East is an authentic Thai restaurant
Opening hours: 19h00 to 22h00. Closed on Sundays
Dinner: A la Carte

The Bar: Lounge and Bar
Opening hours: 10h00 to noon
Café LUX* : Expresso and Cappuccino alla grande.
Opening hours: 10h00 to noon
Ilot and Oasis - Pool bars; opened from 10h00 to 18h00

General Information and Hotel Amenities
- Check-in and check-out times: 14h00 on arrival day; vacated at 11h00 on departure.
- All rooms are equipped with an individual air-conditioner and a safe.
- Satellite television and telephone with IDD in each room.
- Free internet and Wi-Fi connection available throughout the resort.
- Car rental services.
- Dress code: casual smart in the evening.
- Wedding services.
- Business centre.
- Credit cards accepted: American Express, Visa, Diners Club - International and MasterCard.
- Access to international nearby golf courses.
- Beach and pool services.
- Spa and Fitness.
- Water and land sports - both complimentary and applicable fees.
(Information are provided as per hotel's website and/or fact sheet and may change without notice).

Distances
Port Louis, the Capital: about 40 km / around 50 minutes by car.
Mauritius Airport: about 60 km / around 75 minutes by car.

LUX Le Morne on the Map
---
Return from LUX Le Morne to Luxury Hotels in Mauritius

Return to Mauritius Holidays Discovery Home