The Sir Seewoosagur Ramgoolam
Memorial Centre for Culture

Sir Seewoosagur Ramgoolam, SSR (born on 18 September 1900 – passed away on 15 December 1985) was the first post-independence Prime Minister of Mauritius, in 1968.

In memory of Sir Seewoosagur, as the late Prime Minister was respectfully called, his elegant colonial style house was converted into a Memorial Centre for Culture.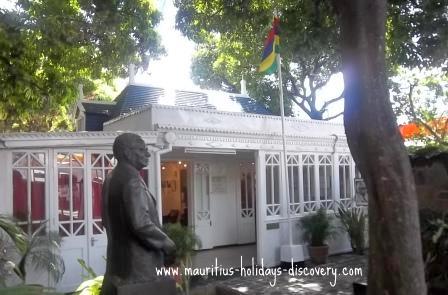 SSR Memorial Centre for Culture - Plaine Verte, Mauritius
The Memorial Centre, which is located at Plaine Verte on the edge of hectic City of Port Louis, exhibits SSR's biographies, quotes from various speeches made by him and some of his personal belongings.

Many photographic displays portray the main events of the statesman's life and interactions with the local population.
In one of the seven rooms which comprise the Centre, many photos of world leaders who visited Mauritius highlight the efforts of Sir Seewoosagur to promote international relationships and cooperation.

Documentaries on the late Prime Minister's life are also regularly projected and a bronze statue of him, made by Russian artist Alekandrov Moskow, in 1987, lies in the front courtyard.

---
Message to the Nation
On this historic occasion my heart is full of joy and of emotions
and I know that I am echoing your own thoughts when
I say that we all in a spirit of unity and solidarity are
determined to go forward and work together for the
welfare and happiness of our people.
SSR, 12 March 1968 (on Mauritius' Independence Day)
---
Sir Seewoosagur, born to Moheeth Ramgoolam - an Indian immigrant labourer originating from Bihar, India - and Basmati Ramchurn, was a medical practitioner. He graduated from University College, London.
One popular anecdote from SSR's childhood is that at a very young age he had a keen interest to attend school and on his own he joined a Roman Catholic Aided primary institution without his parents knowing.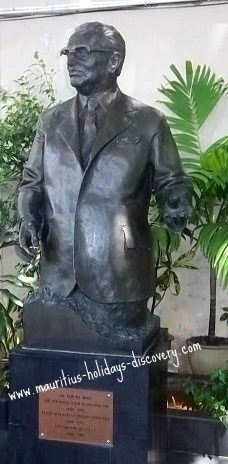 A bronze statue of SSR
In 1959 he became the leader of the Mauritius Labour Party and was Prime Minister from 1968 to 1982.
SSR also served as Governor General of Mauritius from 1983 till 1985 when he died while still in tenure of office.
Visiting hours:
Monday to Friday: 09:00hrs to 16:00hrs
Saturday: 09:00hrs to 12:00hrs
Wednesday, Sunday & public holidays: closed
Admission: free
Address:-
87, Sir Seewoosagur Ramgoolam Street,
Plaine Verte, Port Louis,
Republic of Mauritius
Telephone: + 230 242 0053
Memorial of Sir Seewoosagur Ramgoolam - Pamplemousses Botanical Garden
Click on photo to enlarge

Mauritius Holidays Discovery >> Tourist Attractions in Mauritius >> Sir Seewoosagur Ramgoolam Memorial Centre for Culture