Konokono Bungalow Hotel: Rodrigues Island
Konokono Bungalow Hotel is located at Jeantac on the northeast coast of Rodrigues and approximately 10 minutes' drive from Port Mathurin.
The guest house has 17 rooms (including one family room) divided into 6 bungalows.
Each room, overlooking the blue lagoon, is equipped with hot shower, air conditioner, a small refrigerator and TV.
Thirteen rooms have access for disabled persons.
A swimming pool with sea water and a large courtyard welcome you to relax.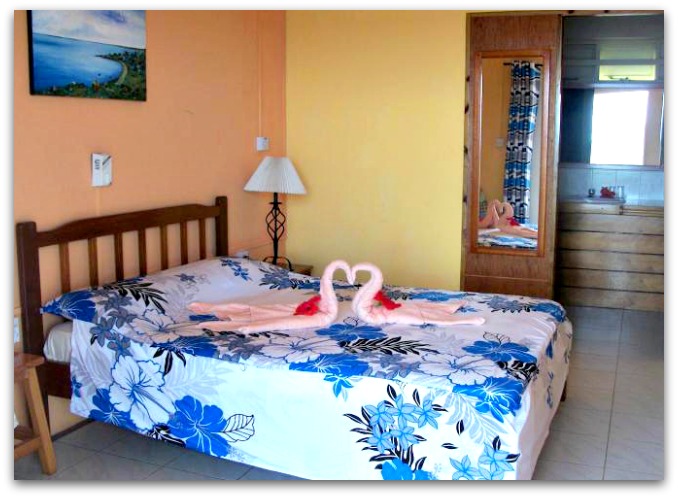 Honeymoon room settings at the guest house.
For more information about Konokono Bungalow Hotel travel package or booking, send us a private message on our Facebook page. Click here >>, or use the Contact Form.

Bar and Restaurant
---
Bar specialty: "le petit punch pays".
Cuisine: Rodriguan, Creole, Chinese, Indian and European.
Dishes are prepared from local farm products. Fish, octopus, pork and chicken are served with rice, corn, red beans, peppers and pickles
Breakfast is served from 7:30 to 9:00 am, and dinner from 18:30 to 20:30. 
The dining room and the bar close at 21h.
Facilities
---
Wi-Fi is free for residents.
A laundry service is available. 
Cleaning is done every day. 
Towels and sheets are changed every two days. 
Beach towels are not provided. 
Smoking is not allowed in enclosed spaces.
Additional Information
---
Visits by persons other than the customer are prohibited in the rooms.
Tap water is not recommended for consumption.
Check in time: 13:00
Check out time: 11:00
Special package and promotional air ticket price for Mauritians and residents.

(Note:details are as provided by hotel and may be subject to change without notice).

You may also like. . . . 
---
Stay Connected and Receive Free Updates
Subscribe to our newsletter and receive free updates on news, stories and travel offers. Don't worry - your e-mail address is totally secure.

---
Follow Us On Facebook. . .

. . . and stay connected with news, stories, comments and targeted offers.

Mauritius Holidays Discovery >> Accommodation and Hotels Rodrigues >> Konokono Bungalow Hotel