Mauritius Photography Museum – 
A Treasure Trove of Mauritian
Photographic Heritage
If you like photography. . . like me, then the Mauritius Photography Museum is a place to visit. You'll be marveled by the rich collection of cameras, projectors, scripts and photos which dates back as far as 1840 exposed there.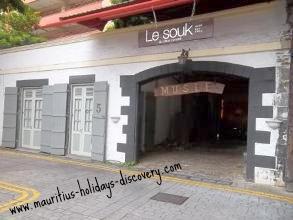 The museum is located in a small comfy 18th century white washed French colonial building in the center of Port Louis City.
Whether you are an amateur or professional photographer; or perhaps mulling to nurture an interest in the world of photographs, you cannot remain unmoved by the lifetime perseverance and dedication of Marie Noelle and Tristan Bréville to preserve thousands of negatives, documents, photos, old postcards, authentic photo frames, cameras and accessories in their quiet museum.

With no small sparkling enthusiasm Marie Noelle will guide you around the museum. A stop where the 28 daguerreotypes, one of the major acquisitions of the Brévilles, are exposed is inevitable. In elated and devout spirits she'll explain to you that these were the first photographs made in Mauritius.
Daguerreotype was invented by Frenchman Jacques Daguerre in 1839 and was a process of producing direct positive images on copper plate coated with silver.

Ferdinand Wörhnitz, a Mauritian of German origin, bought one of these apparatus in Paris immediately after and the first Mauritian daguerreotypes came out as from February 1840.

Among the exhibits you will discover a petrol operated projector, a precursor of the television, used around 1870 in Mauritius, a Gaumont stereoscopic apparatus and projectors used in cinema halls in 1913.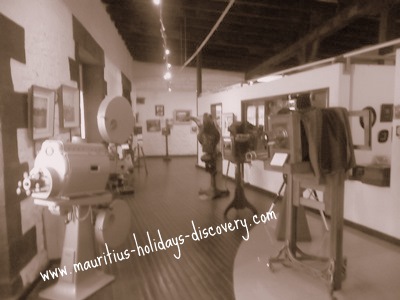 The press machine and the script of the first local newspaper (1773), a unique photograph (1857) of Indian labourers landing at Aapravasi Ghat and a photo frame of the first airplane landing at Mon Choisy beach from Reunion Island in 1933 not only captured the emotions of these great moments, but will hint you about the unrelenting passion of Marie Noelle and Tristan to safeguard the photographic heritage of Mauritius.

In a profound visionary look Tristan will share with you his aspirations to make the museum a perennial nexus to safeguard this aspect of our heritage and to promote Mauritian photography locally as well as abroad.
The couple also endeavours to acquire photos and photographic materials related to Mauritius from all parts of the world.

The museum is opened to visitors on Monday to Friday from 10:00hrs to 15:00hrs.

Admission fee: applicable

Address: Rue du Vieux Conseil and Winston Churchill, Port Louis

Follow Us On Facebook. . .

. . . and stay connected with news, stories, comments and targeted offers.

Mauritius Holidays Discovery >> Tourist Attractions in Mauritius >> Mauritius Photography Museum