Mauritius To Seychelles Vacations: An Island-Hopping Adventure
Mauritius to Seychelles vacations travel plan features:-

When it comes to visiting Seychelles, island-hopping is a must. That is why our offer combines two of the most gorgeous islands – Praslin and Mahé.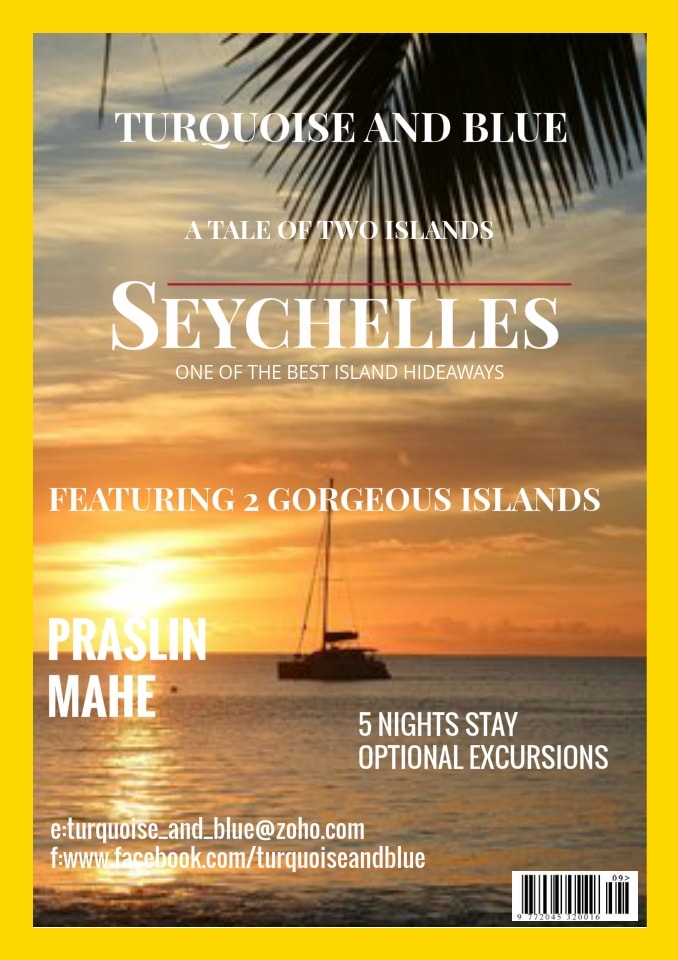 Three Nights in Praslin - Two Nights in Mahé:
DAY 1: Departure Mauritius - arrival in Praslin (1 stop in Mahé). Arrival in the evening; meet and greet with transfer to hotel in Praslin.
DAY 2 & DAY 3/ PRASLIN: Day at your leisure.
DAY 4 / MAHE: Transfer from hotel to jetty where you will board the inter-island ferry to Mahé.
DAY 5 / MAHE: Day at your leisure.
DAY 6 / DEPARTURE: Check-out from hotel and transfer to Seychelles International Airport. Flight back to Mauritius.
Optional Excursions in Seychelles
Half Day of Victoria: Monday - Wednesday - Friday
Wild South Full Day Tour with lunch: Monday - Wednesday - Friday
Starfish – Full Day Tour in St Anne Marine Park with lunch: Tuesday - Thursday - Sunday
Vallée De Mai/Anse Lazio Full Day Tour without lunch: Wednesday - Sunday
La Digue Boat & Bike Full Day Tour with lunch: Daily

"A Tale of 3 Islands" Full Day Tour with lunch: Friday
---
For more information about the Mauritius to Seychelles Vacations travel plan or booking, send us a private message on our Facebook page. Click here >> , or use the Contact Form.
Stay Connected and Receive Free Updates
Subscribe to our newsletter and receive free updates on promotional air ticket prices, best deals, news and stories. Don't worry - your e-mail address is totally secure.
---
Best Places To Visit in Praslin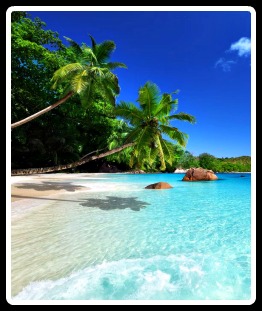 Clear turquoise lagoon of Praslin, Seychelles
The granitic island of Praslin is gifted with gin-like crystal clear turquoise lagoons. It lies about 45 kilometers to the northwest of Mahé.
Formerly known as Palm Island, due to the numerous giant palm trees that covered the island, Praslin has more than stunning beaches to offer. A gorgeous flora and fauna coupled with a loosen up pace of life make the second largest island of Seychelles a droolworthy vacation destination.

Sand, sea, beaches, wildlife and tropical vegetation: Clear cerulean waters, powdery white sands, lush tropical vegetation back-dropped by steeply hills. You name it and Praslin has got something for you.
The choice is yours!
You can laze on the beach, swim in the warm and inviting sea, snorkel around granite boulders which dominates the island's landscape or dive into the limpid waters.
The rich marine bio-diversity is marvelous and expect to encounter colorful reef fish, turtles, rays, eels and sharks.
Oh, S-H-A-R-K-S!

Relax, no panic. There are some diving professionals around who can accompany you to any of the surrounding diving sites.
Fishing has not been left out. Whether big game fishing, coastal or fly, you will surely find your match.
Anse Lazio is considered as one of the most popular beaches of Praslin.
Curieuse Island and Curieuse Marine National Park: To reach there you have to take a boat taxi from Anse Volbert. An entry fee is payable. Main attractions are walking along trails through thick mangrove forest that connects Anse José, where there is a museum and an information centre for visitors to the marine park, and Baie Laraie.
At Baie Laraie you can stroll amongst giant tortoises that were brought in from Aldabra.
The Bay of Anse Volbert, most commonly known as Côte d'Or, is considered as Praslin's main beach. The palm-fringed bay is a very attractive place and the hub to many hotels, restaurants, guesthouses and other tourist related activities.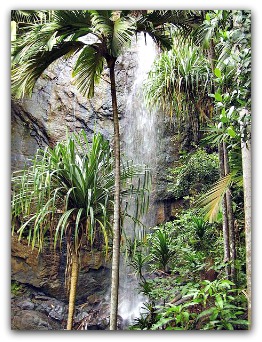 Vallée de Mai, Praslin
Vallée de Mai UNESCO World Heritage nature reserve is a top attraction in Praslin and a must-visit. Here you can see the famous Coco de Mer palm trees which grow up to 40 meters high above the ground. The landscape is almost still primitive where endemic trees and plants like wild pineapples, wild coffee and allspices bushes grow.
The site is also home to some unique wildlife. An entrance fee is payable.
Black Pearl Ocean Farm: At the beachfront farm you can see how Black Lip Pearl Oysters are cultivated as well as the breeding and feeding of Giant Clams which are cultivated for aquariums.
Jewelry and gifts items made from the Black Pearls are on sales at the farm's shop.
After-dark chill-out: Night-life in Praslin is very laid back.You can saunter on the powdery sand for that amazing sunset and opt to dine in any beach restaurant. A variety of succulent cuisines is offered. 
---
Mauritius to Seychelles Vacations: Mahé Travel Tips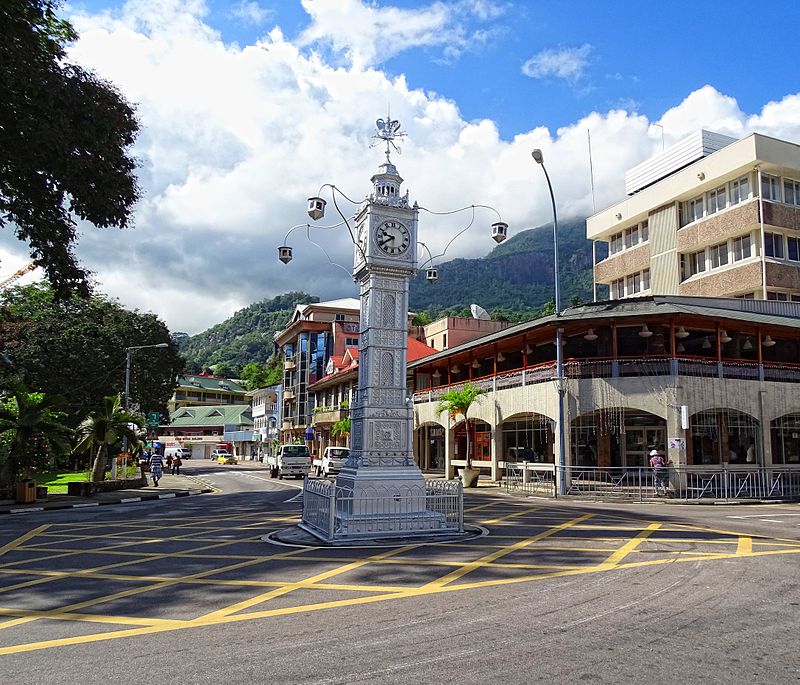 Victoria Clock Tower, Seychelles. Photo: Bjørn Christian Tørrissen
Mahé is the largest and main island of the Seychelles' archipelago. The capital city is Victoria. If you wish a change of scene from the beautiful beaches, Victoria is a nice place to stroll around. At the center of the city stands The Victoria Clock Tower national monument which is evocative of London's Big Ben.
To get a gist of the Seychelles' people everyday life a visit to the bustling market place, where you will find stalls of fresh tropical fruits and vegetables, fish and other local produce, will be nice experience.
Though it is the financial and political center of the island-country, Victoria has not undergone great urban development. The atmosphere is rather reminiscent of a provincial town, but you won't be disappointed. Alongside old but eye-catching colonial buddings, modern boutiques and shops sell souvenirs, clothing and local crafts. 
Street foods and delicacies are inexpensive. Restaurants offer a wide range of European, Asian and Creole dishes.
Beau Vallon is an attractive beach of Mahé. Just snooze on the soft sand lulled by the lapping of the sparkling sea waters and refreshed by the light breeze of takamaka trees. The place is also ideal for swimming and scuba diving.
For those who like to pump-up their adrenaline level Anse Intendance and Anse Parnel are ideal spots for surfing; and that's not all. . . . .!
Tempted to go to the bottom of your thrills? Then join one of the monitoring activities of the Marine Conservation Society Seychelles from August to October for the possibility of snorkeling or free dive with giant Whale Sharks.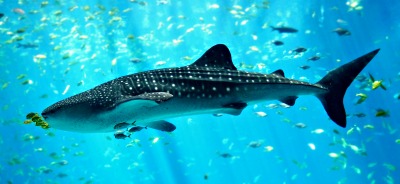 Whale Shark. Photo: Wikipedia
If you want to play Tarzan and fly through the trees, then head to the Constance Ephelia resort to meet professionals of the SMAC Adventures. Breathtaking excitements guaranteed with ziplines, rock climbing and abseiling activities.

Kids and grown-ups alike will love the Eden Aquarium. During the guided visit you'll discover Seychelles' underwater world with a variety of fish that inhabits the lagoon and ocean.
There is a good choice of restaurants, lounge bars and night clubs to electrify your nights. Mouthwatering dishes, cocktails and tapas, nightclubs playing the latest hits or hottest beats of the island. . . .; surely there is a place for everyone's taste when you are on the Mauritius to Seychelles vacations.
Follow Us On Facebook. . .

. . . and stay connected with news, stories, comments and targeted offers.

Mauritius Holidays Discovery >> Turquoise and Blue Travel Packages >> Mauritius To Seychelles Vacations