Exotic Rodrigues Honeymoon Travel
Our finest Rodrigues Honeymoon Travel hotel selection; from budget-friendly getaway to all-inclusive deals with candle light dinner and gifts.
Promotional air ticket price for Mauritians and residents.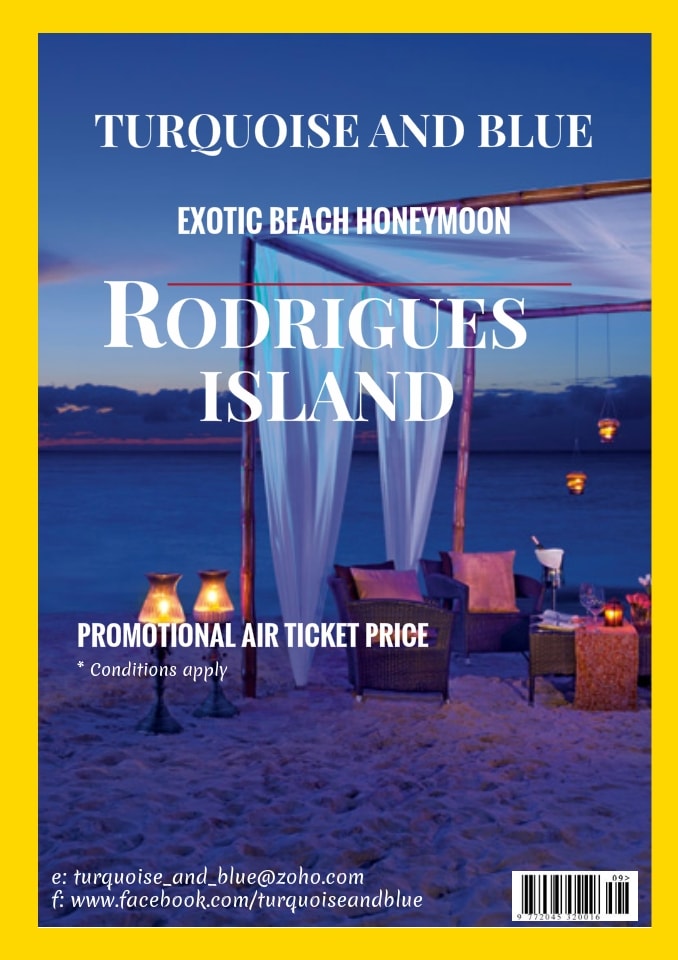 Konokono Bungalow Hotel is not only an appealing exotic destination that is easy on the eye, but offers a formidable deal for honeymooners. 
It is an intimate little getaway haven where you'll find peace and tranquility surrounded by a beautiful scenery. Read more >>
*   *   * 

Stunning creole-styled Mourouk Ebony Hotel offers a private honeymoon atmosphere.
The beachfront complex is located at Port Sud Est, Mourouk in the south eastern part of Rodrigues Island and is surrounded by a lush tropical garden.
The hotel amenities such as a private swimming pool and Jacuzzi, guarantee a tranquil environment for relaxation.
 *   *   *

Beach-front Cotton Bay Resort & Spa is a perfect beach honeymoon destination. Nestled in a secluded and peaceful place at Pointe Coton, the 3-stars hotel offers a choice of Superior Room, Luxury Room or Honeymoon Suite for your stay.
The minimum five days - four nights stay Honeymoon Special in Superior Room include: T-Shirt / 1 bottle of sparkling wine / Fruits platter or cookies in room / Candle light dinner / breakfast in room (upon request).
Special gifts are added for other room types. Read more >>
*   *  * 
Tekoma Boutik Hotel is a four-stars establishment located on one of the finest beaches of Rodrigues Island and promotes the concept of "The Art of Bare Foot Luxury". 
The minimum five days - four nights stay honeymoon package include:  a romantic diner - half day excursion - sun downer with apero - massage for two - sparkling wine / fruits on arrival.
You have a choice of garden view or sea view room. Read more >>
*   *   * 
For more information about the Rodrigues Honeymoon Travel plan or booking, send us a private message on our Facebook page. Click here >>, or use the Contact Form.

---
Stay Connected and Receive Free Updates
Subscribe to our newsletter and receive free updates on news, stories and travel offers. Don't worry - your e-mail address is totally secure.

---
Follow Us On Facebook. . .

. . . and stay connected with news, stories, comments and targeted offers.

Mauritius Holidays Discovery >> Turquoise And Blue Travel Packages >> Rodrigues Honeymoon Travel