Biscuiterie H Rault – Perpetuating a Traditional Mauritian Recipe
What makes the biscuits of Biscuiterie H Rault so remarkable?

These famous traditional cookies, known as Biscuits Manioc in the Mauritian Creole language, are available solely in Mauritius. Adapted from a French recipe known as "Galettes Bretonnes", they are made from cassava flour.

The biscuit factory is located at the evocative historical town of Mahébourg in the south-east part of the island. It started its operations in 1870 and since then the Biscuits Manioc are still very popular, both to Mauritians and tourists alike.
As you drive along the Cavendish Bridge in that region of Mahébourg known as Ville Noire, a rustic meandering road, bordered by cassava shrubs plantations, will lead you to the remote factory compound.

Cassava plants, which are native to tropical America, were introduced to Mauritius from Brazil by French governor Mahé de La Bourdonnais.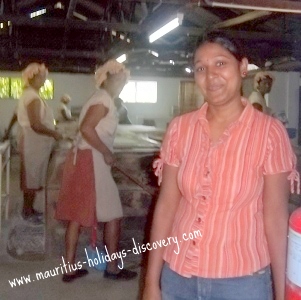 Once there the light-hearted welcome of amiable Ousha, the tour guide, under the intense shades of Tropical Almond trees cannot leave you insensible.
The tour starts by a visit to an 18 metres deep well supplying fresh drinking water to the Seneque estate named "Les Délices" (the delights); in the middle of which the Biscuiterie H Rault is situated.

The Seneques are the great-grandchildren of Hilarion Rault who, encouraged by his friends and relatives, turned a family recipe into a commercial enterprise in 1870. He was the son of Fabien Rault who came from Brittany, France to settle in Isle de France (as the island was then known when the French colonised Mauritius) at the beginning of the nineteenth century.

Inside the factory you'll see how cassava tubers are washed, de-pulped, crushed and dried to make the main ingredient of the biscuits – cassava flour.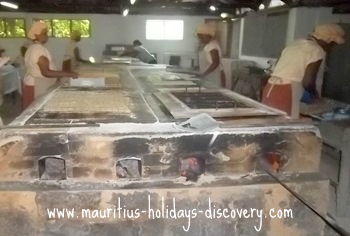 The bakery part offers quite a spectacular and exotic scene. Cheerful hilarious women bake the sugared flour mixed with coconut powder on metal plates which are heated by burning dried banana and sugar cane leaves. This traditional scene mixed with the sweet nutty aroma of the freshly baked crunchy biscuits subtly juxtaposes feelings of wonderment with the impressions of living amidst a distant French colonial setting.
These biscuits were in great demand during the First World War. Imported wheat flour for the baking of bread was in severe shortage due to ships sparingly calling at Port Louis harbour.

Until recently the factory was run by Thérese Seneque; a very courageous woman indeed.

I've always wished to interview admirable Thérese about how, in her nineties, she could jovially manage this factory and keep alive a more-than-a-century old family tradition amidst modern influences.

At Les Délices, I couldn't help myself asking Ousha for a meeting with Thérese. I told her that initially I planned to visit the factory in November last year, but postponed it for now.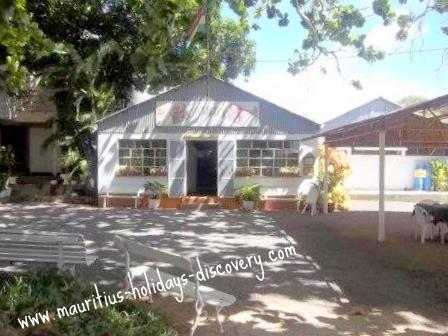 Biscuiterie H Rault at Les Délices, Ville Noire, Mahébourg: Classified a National Heritage and one of the most exotic tourist attractions in Mauritius
I was very excited to meet Mrs Seneque.
My high spirit was punctured though, when Ousha sadly announced to me that she passed away on 20 December 2011; barely three weeks prior to my visit.
She was aged 99.
As I drove back home in a pensive mood it came to me, from the pith of my heart, that whenever you feel like building a meaningful relationship with others. . . . , with yourself or with Nature, just do it.
Tomorrow may not give you the opportunity to do so!
Visiting hours:
Monday to Friday: 09:00hrs – 15:00hrs
Saturday, Sunday, public holidays: closed
Admission fee: applicable
On site biscuit-tasting with tea or coffee service is available for a small supplement
Address: Les Délices, Ville Noire, Mahébourg
Tel : 230 631 9559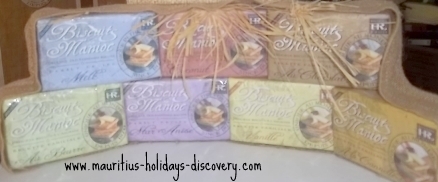 Biscuits Manioc: A crunchy delicacy to be enjoyed with tea or coffee.
Map of Mauritius - Biscuiterie H Rault, Mahébourg
You May Also Like. . . 
Follow Us On Facebook. . .

. . . and stay connected with news, stories, comments and targeted offers.

Mauritius Holidays Discovery >> Tourist Attractions in Mauritius >> Biscuiterie H Rault