Coin de Mire
(Gunner's Quoin)
When you look at Coin de Mire from the beach of Cap Malheureux, you somewhat catch the impression of a giant whale floating on the sea.
Some people will even push their creative fantasy an iota further and say it is related to the Sphinx of Egypt!
For sure, though, the offshore islet draws wonder and admiration.
This ancient volcanic cone of basaltic rocks is located 8 kilometers from the northern tip of Mauritius and covers an area of about 76 hectares.
Being a nature reserve, access to it is restricted.
But night diving around is a tantalizing pull to many; the underwater life is superb. Some elderly fishermen will say the best time is at midnight during the full moon.
If you are lucky enough you could even sight gorgeous mermaids lying on the volcanic rocks imbibing the moonlight in enticing melodies.
When these dazzling water spirits dive into the sea they glow in scintillating colors. That's why they are called love messengers and if you confide your melancholy to these undines, they'll carry your sorrows to your dear one in any part of the world.
Hehe!...That's how the fairy folkloric tale goes :-)
On your way to Ilot Gabriel for an excursion there, cornering the islet is inevitable. The majestic soaring of wedge-tailed shearwaters and tropic birds is worth admiring.
In 1810, British Captain Nesbit Willoughby, prior to engaging the Naval Battle of Grand Port, lured a French squadron into believing that their enemies were sailing around here.
Later on a British armada sailed from the quoin and landed at Bain Boeuf to take possession of Mauritius from the French colonists.
The fauna and flora of Gunner's Quoin are scant and sparse. Reptiles like the keel-scaled and burrowing boas have been lost in recent years.
The Bojer's skink, Orange tail skink, Telfair's skink and the Lesser night gecko, however, can still be found on the islet.
Tufted specimens of these species are exposed at the Mauritius Natural History Museum.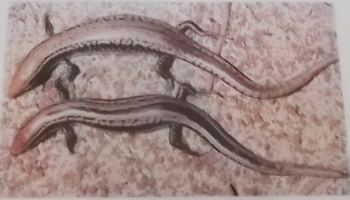 The Bojer's skink
Follow Us On Facebook. . .

. . . and stay connected with news, stories, comments and targeted offers.

Mauritius Holidays Discovery >> Coin de Mire