Mauritius Beaches -
Cap Malheureux, Anse la Raie &
Grand Gaube
Amazing Mauritius Beaches. . . . !
Cap Malheureux Beach
Nearby five-star luxury hotel: Paradise Cove Boutique Hotel
Cap Malheureux is a small fishing village located in the northern tip of Mauritius Island.
A literal translation would be "unfortunate cape" – perhaps because of many shipwrecks that occurred near its coast in the distant past.
Life here flows effortless, no hustle and bustle, and the people are nice folks.
The main attraction is unsurprisingly the beach with some basaltic rocky areas scattered here and there.
At this point you can admire the Roman Catholic Notre Dame Auxiliatrice church, (A.D.1938) with its slant red shingled roof.
Undoubtedly it is the most photographed church of the island. 

Looking towards the ocean, you can contemplate the five fascinating northern offshore islets – Coin de Mire (Gunner's Quoin), Ile Plate (Flat Island), Ile Ronde (Round Island), Ile aux Serpents (Serpent islet) and Ilôt Gabriel.
A little further down from the church the small crescent bay is always filled with artisanal fishing boats.
Each boat has a story behind it – a love story, the story of courage and a lifetime dedication, or even one of a tragic end.
(click on image to enlarge)
Cap Malheureux is a sweet spot to stop by for taking great photos, swimming, snorkelling and nurturing yourself in body, mind and spirit.
Anse La Raie Beach
Nearby Five Star luxury hotel: Paradise Cove Boutique Hotel

Daybreak at Anse la Raie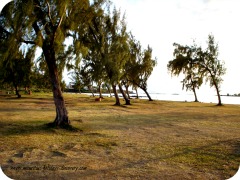 Anse la Raie is 2 kms from Cap Malheureux, and to capture its beauty an early morning saunter or jog on the long white sandy beach is a must.
At sunrise, the soft balmy rays of the sun blend perfectly with the cool breezes from the ocean to interweave with the languishing melody of the beach forest's casuarinas.
The resulting ambiance of peace and tranquility is simply heavenly.
Multi-faceted Anse la Raie is a famous place for kitesurfing, but it is much less known for its "trululu" crabs.
"Trululu" is a deformation of the French word "tourlourou" which refers to a land crab.
In a remote silty part of the beach, the uncovered sand is strewn with innumerable tiny holes during the low tide.
If you are patient enough and stand till stand for a short while, you will see an army of tiny "trululu" crabs – characterized by their reddish colour – peeping out with their stalked eyes.
Sensing no apparent danger they will lazily hoist themselves on to the sand and colonise the seashore.
At the slightest alarm though they will speed and plunge back into their retreats. 
(click on image to enlarge)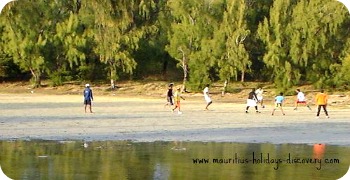 A passionate early morning informal
soccer match on a peculiar pitch
Grand Gaube Beach
Nearby 3+ star hotel: The Veranda Paul & Virginie Hotel and Spa             Nearby luxury beach resort: LUX Grand Gaube
Located in the North East coast of Mauritius, Grand Gaube is a quiet fishing village. However, compared to Cap Malheureux, the village is fairly busier.
Facilities such as hotels, restaurants and small commercial outlets exist side-by-side with the sea along a rugged coastline.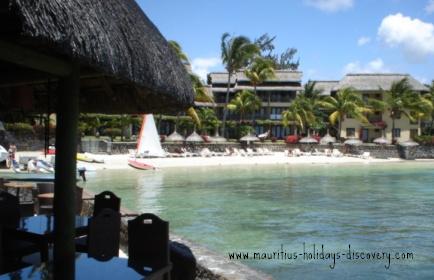 Grand Gaube: A Vacation Destination
From under the intense shades of huge banyans and Honge Trees you can admire the glittering emerald-blue waters of the sea, but on a torrid summer day it is hard, really hard, to resist the thrills of a plunge into the limpid water.
Mauritius Beach: A clear summer day at Grand Gaube
(click on image to enlarge)

Return from Mauritius Beaches to Beaches In Mauritius
Return from Mauritius Beaches to Mauritius Holidays Discovery Home