Mauritius Luxury Resort
LUX Grand Gaube
Luxury resort LUX Grand Gaube is located at Pointe Rejane which adjoins the small fishermen village of Grand Gaube in the north east of Mauritius.
Erected on a secluded peninsula to ensure the privacy of its guests, the establishment blends a Feng Shui ambiance around beautiful gardens of Filaos, banyans and coconut trees.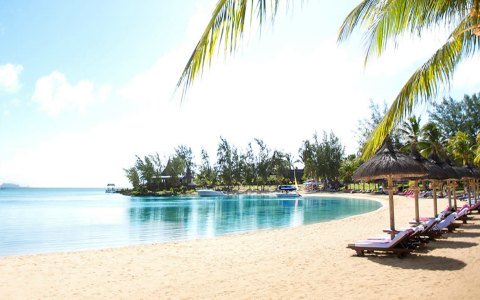 Mauritius Luxury Resort - LUX Grand Gaube

Travelers to the hotel are guaranteed a relaxing and leisurely tranquility.
From the turquoise lagoon you can have a magnificent view of the five offshore islets - Gunner's Quoin (Coin de Mire), Ilot Gabriel, Round Island, Flat Island and Serpent Island.


Accommodation

The hotel has 198 rooms and suites, all facing the sea.
22 Superior Rooms

104 Ocean Superior Rooms

46 Deluxe Room

s

23 Junior Suites

2 Senior Suites

1

Emperor Villa
Room Sharing Policy
Superior Room: 2 adults + 1 child or 1 baby

Ocean Superior Room: 2 adults + 1 teen or 1 child or 1 baby

Deluxe Room: 2 adults

Junior Suite: 2 adults + 1 teen or 1 child or 1 baby

Senior Suite: 2 adults + 2 teens or 2 children + 1 baby

Emperor Villa: 2 adults + 2 teens or 2 children + 1 baby
Note:
Baby: under 3 years old
Child: 3 to 11 years old
Teen: 12 to 17 years old

Restaurants and Bar

Guests have a choice of 4 restaurants - The Kitchen, The Beach, Banyan - The Island Kitchen and the Abalone.

The Kitchen is the main Restaurant.
Opening hours: 07h00 to 10h30 and 19h00 to 22h30
Breakfast & Dinner: Buffet 
The Beach serves Mediterranean cuisine.
Opening hours: 12h30 to 16h00 and 19h30 to 22h30
Banyan - The Island Kitchen serves traditional Mauritian street food.
The Abalone is located on the beach and offers light dishes for lunch and a selection of fresh seafood platters for dinner.
The Bar serves light lunch or refreshing tropical cocktails while at dinner time you can enjoy a simple tasty menu with an extensive range of drinks.
Opening hours: 12h30 to 16h00 and 21h00 to 01h00
At Café LUX a blend of coffee from in house roasted coffee beans are available.

General Information and Hotel Amenities
- Check-in and check-out times: 14h00 on arrival day; vacated at 11h00 on departure.
- All rooms are equipped with an individual air-conditioner and a safe.
- Satellite television and telephone with IDD in each room.

- Free internet and Wi-Fi connection available throughout the resort.
- car rental services.

- Dress code: casual smart in the evening.

- Credit cards accepted: American Express, Visa, Diners Club - International and MasterCard.
- Entertainment by local artists or themed / DJ evenings.
- Cinema, art gallery and hotel boutique.
- Conference facilities.

- Helipad and access to international golf courses.

- Beach and pool services.

- Spa and Fitness.
- Water sports - both complimentary and applicable fees.
(Information are provided as per hotel's website and/or fact sheet and may change without notice).
Distances
Port Louis, the Capital: about 30 km / around 40 minutes by car.
Mauritius Airport: about 80 km / around 75 minutes by car.
Buzzing Grand Bay: about 12 km / around 20 minutes by car.
LUX Grand Gaube on the Map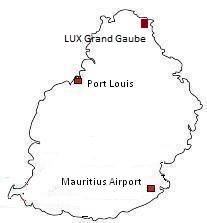 ---
Return from LUX Grand Gaube to Luxury Hotels in Mauritius
Return to Mauritius Holidays Discovery Home