Paradise Cove Boutique Hotel
Five star Paradise Cove Boutique Hotel, nestled in a luxuriant tropical garden around a gorgeous natural cove, is located at Anse La Raie Beach in the north of Mauritius.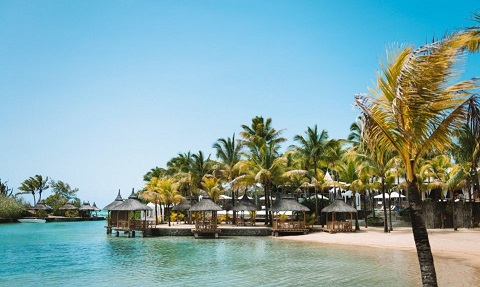 The Paradise Cove Boutique Hotel in Mauritius

The "you&me moments" theme proposed by the establishment to its guests is an innovative concept. It is an adult exclusive (18 years and onward) hotel for couples, honeymooners and friends, aiming at guaranteeing a peaceful and serene holiday.
From Paradise Cove you can have a beautiful view of the five offshore islets - Gunner's Quoin (Coin de Mire), Ilot Gabriel, Round Island, Flat Island and Serpent Island.

Accommodation

The hotel has 67 rooms spread as follows:-
20 Deluxe Rooms
27 Deluxe Premium Rooms
18 Club Junior Suites
2 Club Senior suites
All rooms have access to a terrace or a balcony.

Restaurants
The establishment has three restaurants - The Dining Room, The  Cove and the XO.

Opening hours: from 07h00 to 09h00 and 19h00 to 22h00.
Opening hours: from 19h00 to 22h00. Closed on Sundays.
Prior booking requested.
Opening hours: from 19h00 to 22h00. Closed on Sundays.

Prior booking requested.
Bars
                  Opening hours: from 12h00 to 14h30
                  Opening hours: from 10h00 to 23h00
Rum Gallery and S' Cellar - opened all day

The "Rum Gallery" serves a selection of top-class rum, while the S' Cellar offers an exclusive range of wines from New Zealand, Australia, South Africa, Argentina and Chile.                       

General Information and Hotel Amenities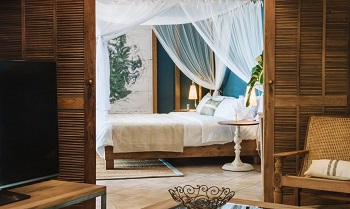 - Check-in and check-out times: as from 2pm on arrival day; vacated at noon on departure day.
- Free internet & Wi-Fi connection available.
- Limited private parking space free of charge.
- 24h/24 reception and security services.

- Dress code: smart casual. At dinner times shorts are not accepted in the restaurants.

- Exchange currency service is available at the reception.

- Credit cards accepted: American Express, Visa, Diners Club International, MasterCard and Maestro.

- All rooms are equipped with an individual remote-controlled air-conditioner and a safe.

- Spa – partnered with Cinq Mondes Spa.

- Swimming pools, gym and boat house.
- The boutique is opened daily from 08h00 to 20h00 (except on Sundays from 08h00 to 18h00) and offers basic products such as soaps, toothpaste, local handicraft, stamps, postcards and souvenirs for sales.

(Information are provided as per hotel's website and/or fact sheet and may change without notice).
Distances:
Paradise Cove Boutique Hotel on the Map
---
Return to Luxury Hotels in Mauritius
Return to Mauritius Holidays Discovery Home