Bain Boeuf Beach
Bain Boeuf – literally "beef bath".

In the distant past, according to some people, the neighboring inhabitants brought their cows and oxen here to wash them.
Nowadays you won't find any cattle on the beach and the remaining nearby plots of grazing lands are being fast "eaten up" by the ever hungry real estate development projects as the village adopts a sober mood of nearby Pereybère.
Anyhow, the beach is a beautiful place where you can enjoy the sun, sand and sea in a laid back atmosphere.

The melodious chirping of little canaries in the refreshing filaos grove along with the vermilion streaks of the sunset are terrific!

On 29th November 1810, shortly after the Battle of Grand Port, over 10,000 British troops and Indian sepoys landed here, a place known as Mapou at that time, to invade Mauritius.

They battled with the French to take possession of Isle de France (The name given to the island by the French when they annexed it in 1715).

Eventually the French General Decaen signed a capitulation treaty on 3rd December 1810.

To commemorate the landing of British army forces more than 200 years ago Anne The Princess Royal unveiled, during her visit in Mauritius, a monument at the beach near Cap Malheureux on 2nd December 2010.

---
Photo Gallery - (click on image to enlarge)
---
Bain Boeuf Wetland
Did I say you won't find any cattle on the beach?

Yes, that's absolutely correct; there aren't. But a short distance from the coast and off the adjoining village you'll most probably see some cows grazing peacefully under acacia trees in a marshy expanse of land.

This swampy area, which is being seriously eyed by land promoters, is a wetland and the habitat of a rich biodiversity.

Dense aquatic Typha plants, called vounes (derived from Malagasy word vondro), colonise various spots of the marshland. The flowers of these plants develop into brown spikes and when ripe they disintegrate into cottony fluffs which are dispersed by wind. Some people are allergic to the pollens of these plants.
The brackish ponds are populated by small tilapia-like fish. Migratory birds, which travelled more than 10,000 kilometres from the northern hemisphere, relish on these fish. These birds fly to Mauritius to groom their plumage and mate.

Occasionally you'll sight some poule d'eau making their way through the water like little ducks, funnily nodding their heads forward and backward as they swim along. When frightened, these shy birds spread their wings and skitter away over the surface of the muddy lake, splashing water in every direction to take refuge in the dense vounes bushes.

Besides the beach, skipping around this ecosystem will be an added bonus to your pleasure.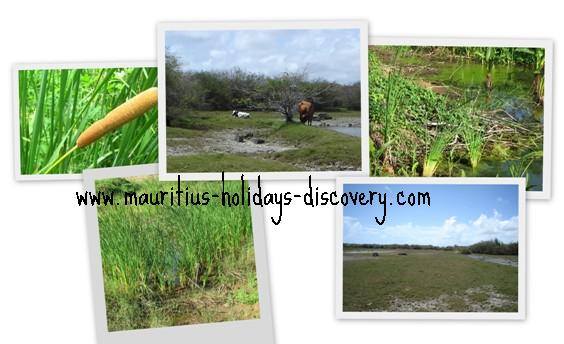 You May Also Like. . .
Follow Us On Facebook. . .

. . . and stay connected with news, stories, comments and targeted offers.

Mauritius Holidays Discovery >> Beaches in Mauritius >> Bain Boeuf Beach