Pink Pigeon
Nesoenas mayeri
Factsheet
In 1986 the pink pigeon was on the brink of extinction. Only twelve remained; a dramatic drop from the single population of twenty individuals which existed in the wild around the mid-1970s.
Destruction of native forest for sugar cane cultivation, non-native predators like rats, mongooses and monkeys and the degradation of the natural habitat were the main causes leading to the alarming decline in the pigeons' population.
Had intensive conservation programme not been initiated with the introduction of captive breeding in 1976, the endemic pigeon to Mauritius would have been totally wiped out.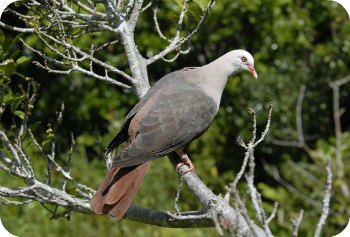 Photo Courtesy: Ria Winters
Common name:
English: Pink pigeon 
French: pigeon des Mares and pigeon rose
Mauritian Creole: pizon des mares
Species name author:
Florent Prévost, a French naturalist (1843)
Taxonomy:
Order: Columbiformes
Family: Columbidae (doves and pigeons)
Synonyms:
Columba mayeri: Prévost, 1843
Streptopelia mayeri: Johnson et al., 2001
Nesoenas mayeri: Cheke, 2005
Current IUCN Red List category:
Downlisted from Critically Endangered in 1994 to Endangered in 2000
International Union for the Conservation of Nature - Endangered (EN)

Description:
A distinctive medium-sized pigeon with a pale pink plumage, pink feet and beak. They have brown wings and a broad rusty-brown tail.
Their eyes are dark brown, surrounded by a ring of red skin.
Size - about 36 cm
Average mass - 350 g
Population:
Size -  around 470 individuals 
Trend -  decreasing
Distribution size (breeding/resident): 80 sq km
Habitat:
Five sub-population cetered around Conservation Management Areas of the upland tropical forests of Black River Gorges (lower Black River Gorges, Brise Fer, Pigeon Wood, Bel Ombre and Combo.)
Another populaion is thriving on the predator-free island and nature reserve of Ile aux Aigrettes, off the coast of southeast Mauritius.
Diet:
Flowers, leaves and fruits of native and exotic trees
Threats:
Predators such as rats, mongooses, monkeys and feral cats
Invasive plant species such as the Chinese Guava Psidium cattleianum and the privet Ligustrum robustum var. walkeri reduce the quality of breeding and foraging habitat.
Habitat  degradation and loss caused by the destruction of native forest, particularly for plantations.
Destruction of nests, eggs, chicks and habitat  by tropical cyclones
Conservation:
A captive-breeding and reintroduction programme by the Mauritian Wildlife Foundation
Predator and disease control
Rehabilitate plots of native vegetation
Supplementary feeding due to a pronounced degradation of natural habitat. The herbivores cannot find sufficient food for their survival.
Distribution Map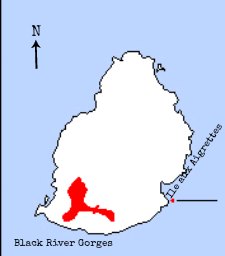 Other Endangered Bird Species of Mauritius
■ Mauritius Kestrel ■ Mauritius Olive White-eye ■ Mauritius Fody, ■ Mauritius Echo Parakeet ■ Mascarene Paradise Flycatcher ■ Mauritius Black Bulbul ■ Mauritius Grey White Eye ■ Mauritius Cuckooshrike
Return from Pink Pigeon to Mauritius Holidays Discovery Home