Reunion Island Wild South: The Rugged Volcanic Scenery

Reunion Island Wild South Excursion itinerary:
| Panoramic Views | Magnificent Mountains | Wild Scenery | Eco-tourism | 
Other Reunion Island Excursions >> : La Fournaise Volcano | Cilaos | Maïdo and Salazie |
Indian Ocean travel plan >> : Seychelles | Rodrigues Island | Saint Pierre - Réunion |

"No one realizes how beautiful it is to travel until he comes home and rests his head on his old, familiar pillow." - Lin Yutang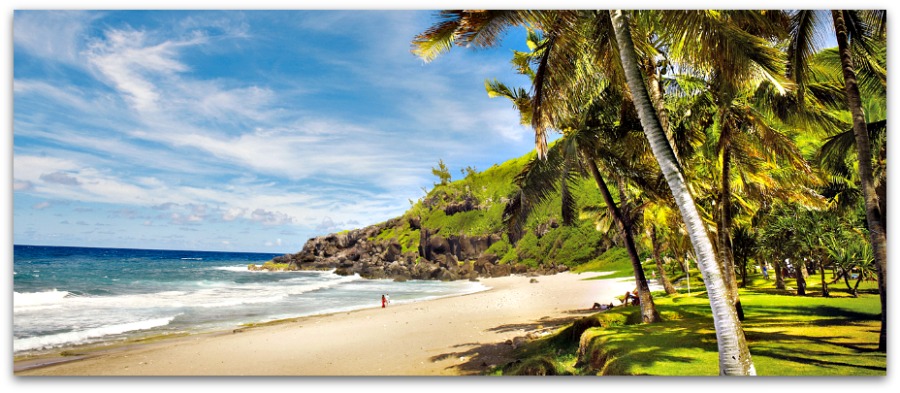 La Plage de Grande Anse
Bois Court is situated at Plaine des Cafres. From the viewpoint you'll catch a spectacular view of Grand Bassin - a small village located 600 meters deep down in a valley. There are some habitations there and the hamlet is regularly supplied with necessities from a freight elevator. At times a helicopter fly cargo down the valley. Nearby there is a water clock.
Plaine des Cafres: a highland area located between Piton des Neiges (the highest mountain peak of the Indian Ocean at 3 070 meters altitude) and  Piton de la Fournaise (an active volcano of Réunion Island). There are many cow pastures at this place due to  abundant flat lands covered with grazing land. The Piton de la Fournaise Volcano Observatory is located at Plaine des Cafres.
Col De Bellevue: the panoramic view of Plaine des Palmistes from the col is of exceptional beauty. It is also an ideal place for picnics. The mountainous tropical vegetation is luxuriant.
---
For more information about the Reunion Island Wild South Excursion plan or booking, send us a private message on our Facebook page. Click here >> , or use the Contact Form.

Stay Connected and Receive Free Updates
Subscribe to our newsletter and receive free updates on news, stories and travel offers. Don't worry - your e-mail address is totally secure.

---
Le Pont Suspendu: a marvelous bridge which towers 50 meters above the bed of rivière de l'Est. It is now a historic monument and is closed to traffic. The bridge is 152 meters long and is a nice spot for promenade and photo shoots. Visitors can enjoy the view overlooking the ravine of the River of the East.

Anse des Cascades: a unique place where there is a small fishing port and multiple waterfalls flowing down the surrounding cliffs. It is also a splendid picnic spot under coconut palm trees plantation.

Notre Dame Des Laves Church is a Catholic church painted in pink and situated at Sainte Rose. In 1977, the Piton de la Fournaise erupted and destroyed the town of Sainte Rose. Miraculously the church was spared by the lava flow which encircled but did not burn it. The lava which surrounded the church is still present. Nearby you can see a statue of the Vierge au Parasol.
Le Grand Brulé: the eastern coastal region where lava flows towards the ocean during major eruptions. The last one in 2007 extended the coastline by 35 hectares. After each eruption the road is asphalted again when the lava has cooled down.The cooling may take from six months to one year.
Cap Méchant: an impressive cliff where huge waves come crashing against the basalt cliff. The scenery is spectacular.
Cascade du Grand-Galet is an underground river which originates on the slopes of Piton de la Fournaise and magnificently flows upwards at Grand Galet.
La plage de Grande Anse: a  beautiful coral beach fringed with palm trees. Swimming, however, is dangerous except in a  small rock pool which has been built at the extremity of the beach.
---
Reunion Island Wild South Excursion Map
Follow Us On Facebook. . .

. . . and stay connected with news, stories, comments and targeted offers.

Mauritius Holidays Discovery >> Turquoise and Blue Travel Packages >> Reunion Island Wild South Excursion