Poste Lafayette – Roches Noires       
Beaches
I was captiv-a-a-a-a-a-ted!
That's the feeling Poste Lafayette left upon me the first time I went there.
The sheer unspoiled beauty of the rugged coastline and the fierce swells lashing the rocky shore would not leave you unmoved.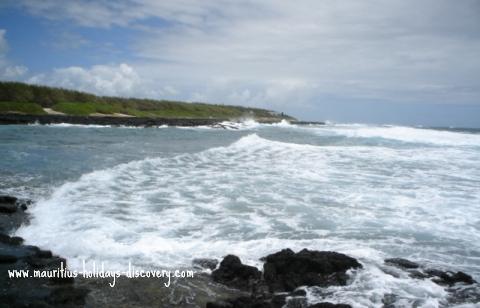 It is a speck of the beaches in Mauritius that has retained its rustic simplicity and charm.
Being a rather untamed secluded spot with a rough sea, this part of Mauritius Island is not a crowd puller and is diametrically opposed to buddy-buddy Mon Choisy or exquisite Grand Baie.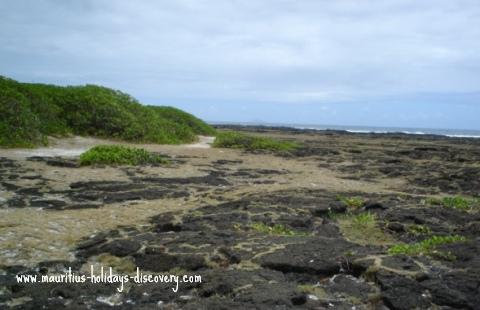 (Volcanic Rocks along Poste Lafayette Coastline)
Basalt rocks all along the craggy shoreline together with gaps in the coral barrier reefs surrounding the coasts of Mauritius give the beach its character.

It feverishly grasps these settings to assert itself through swollen roaring waves; and more so if it is teased by strong winterly gusts blowing from the south-east.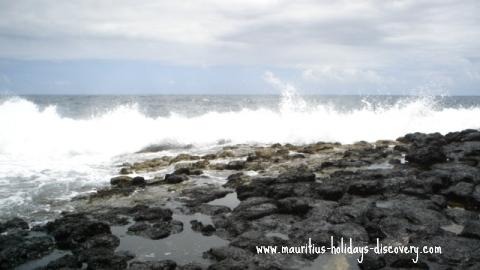 During summertime, from November to March, the hot climate is fanned by a cool and pleasant wind from the deep blue sea.
For those of you who enjoy a dip in the water, there is no need to despair. An expanse of the beach, protected by coral reefs, forms a calm gentle bay.

So follow your heart and go for that pleasurable swim.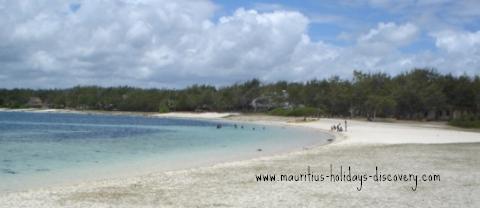 A lonely monument stands solemnly on a sandy patch to remind us that on 9th of July, 1964 a group of six young soldiers on training at sea drowned when their boat capsized.
Each year, on that day, the Special Mobile Force (a unit of the Mauritius Police Force) and family members of the victims gather here for a wreath-laying ceremony to commemorate the tragedy.

The Last Post, a trumpet call used at military funerals and ceremonies, is played as a reverential ritual to honour the dead.

As you gaze with awe and amazement at the clamorous ocean, you get the feeling of trying to decipher something which you cannot totally understand.

You come to realize about how frail and puny we are compared to the phenomenal power of Mother Nature. Amidst this endless cycle of creation and annihilation you sometimes strangely feel secured, poised and serene deep within.

Leaving your brief mystical experience behind and driving a few kilometres to the north, you'll reach Roches Noires (literal translation: Black Rocks) beach.
Stopping-by for some great shots. . . . . .,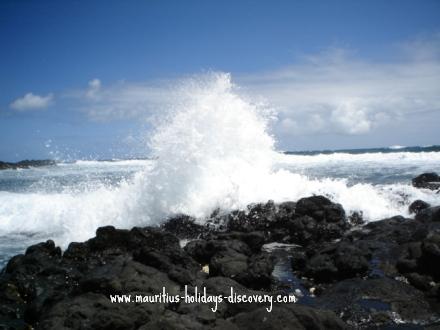 Mauritius Beach, Roches Noires:-
Heavy Waves Crashing On Basalt Rocks
. . . . . . and to revamp your inspirations is a must!

Beautiful Rugged Coastline of Roches Noires
(Click on image to enlarge)
Roches Noires village is just a few miles further ahead. The sea there is more calm and relaxed. In some way it reflects the placid attitude of this friendly rural community.

Von Molke Beach - Roches Noires Village, Mauritius

Roches Noires Photo Gallery
(Click on image to enlarge)

---
You May Also Like. . .
Follow Us On Facebook. . .

. . . and stay connected with news, stories, comments and targeted offers.

Mauritius Holidays Discovery >> Beaches in Mauritius >> Poste Lafayette - Roches Noires